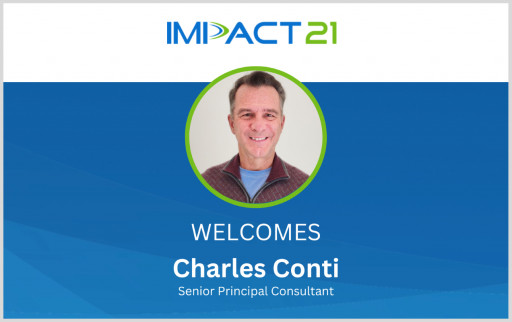 Charles Conti, Sr. Principal Consultant

Impact 21 New Hire

LEXINGTON, Ky. - January 19, 2023 - (Newswire.com)


Impact 21, a retail consulting, analytics, and services company, announces the addition of Charles Conti to the team as a Senior Principal Consultant. Conti brings a rich background to Impact 21 with over 24 years in the convenience store industry. An experienced leader, mentor, business owner, and solutions architect, Conti extends his ability to understand issues and implement efficient and effective solutions for his clients.

"Impact 21 strives to offer diversity of services and we are delighted to welcome Charles to our team with his diverse experience and knowledge. Given his proficiency in technology, secure networking, fuel logistics, automation, store operations, and food service, we know Charles will provide value to our customers," says Scott Burchfield, Impact 21 Chief Operations Officer. 

During Conti's career at Professional Technologies (PDI), he served in many roles. He helps clients select appropriate solutions and negotiate favorable terms with vendors. Conti applies his knowledge of networking, mobile device management, and troubleshooting to achieve clients' needs. His leadership skills as a Marine officer enable clear concise communication throughout the team.
"I have been blessed to enjoy a wide variety of interesting, diverse, and challenging opportunities in my career and am thrilled to embark on this journey with the Impact 21 team," said Conti.
Most recently, Conti served as Director of Hardware Product Management at PDI. He worked with service providers and hardware manufacturers to create and implement PDI Secure Networking and to ensure high quality and security standards. Conti ensured that his clients' needs for a secure, affordable, and appropriate infrastructure were anticipated and met. He worked to evolve PDI Hosting Services, designing hardware and third-party software solutions by interacting with software product managers and sales teams. He applies knowledge from his MCSE, PC and server certifications to implementing appropriate solutions for his clients.

For further information, please visit impact21.com. Check us out on LinkedIn for insightful industry trends and best practices.


Contact Information:
Diane Frechette


[email protected]


248-635-1455


Press Release Service by Newswire.com

Original Source: Charles Conti, Former Marine Officer, Joins Impact 21 as Senior Principal Consultant
originally published at Retail - RSV News