The Vilcek Prizes for Creative Promise recognize rising immigrant scientists living and working in the United States whose work represents a significant contribution to their field.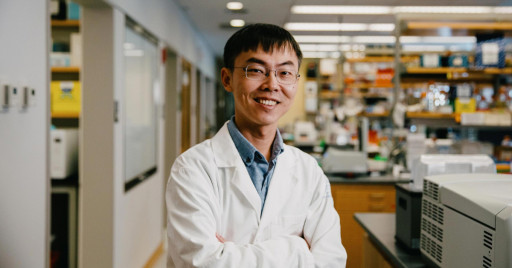 Shixin Liu: 2023 Vilcek Prize for Creative Promise in Biomedical Science
Scientist Shixin Liu stands in his laboratory at the Rockefeller University.
NEW YORK, March 14, 2023 (Newswire.com) - Shixin Liu receives the Vilcek Prize for Creative Promise in Biomedical Science for developing cutting-edge biophysical tools to directly visualize and understand the physiological function of nanometer-scale biomolecular machines such as those that carry out genome replication and gene transcription.
The Vilcek Prize for Creative Promise is a $50,000 prize awarded annually by the Vilcek Foundation as part of its prizes program. Awarded annually since 2006, the Vilcek Foundation prizes recognize and celebrate immigrant contributions to scientific research and discovery, and to artistic and cultural advancement in the United States. In addition to providing direct support to individual immigrant professionals, the prizes support the Vilcek Foundation's mission to raise public awareness of the value of immigration for a robust society.
A molecular biologist, Shixin Liu is fascinated by the dynamic nature and behavior of molecules in living cells. Liu directs the Laboratory of Nanoscale Biophysics and Biochemistry at The Rockefeller University, where his research focuses on visualizing and understanding the dynamic behaviors and interactions of biomolecules using single-molecule visualization and manipulation techniques. "Our long-term goal is to establish a quantitative input-output relationship between environmental stimuli and gene expression profiles in both normal and diseased cells," says Liu. "This research gives us fundamental knowledge and a unique angle to attack disease mutations."
Born in Anhui province in China, Liu began undergraduate studies at the University of Science and Technology of China when he was just 14. At 19 he immigrated to the United States to pursue his PhD at Harvard University, where his work in the laboratory of Vilcek Prize winner Xiaowei Zhuang sparked his fascination with single-molecule biophysics.
As a postdoctoral fellow at the University of California, Berkeley, Liu continued his work in molecular biophysics, working under the mentorship of another Vilcek Prize-winning scientist, Carlos J. Bustamante. At Berkeley, Liu employed an exquisitely force-sensitive tool known as optical tweezers to investigate the operating mechanisms of molecular machines, including some of the most powerful motors found in nature.
"My scientific trajectory was really defined by my two amazing mentors... I think that's one of my best experiences: to be able to interact with people from around the world."
"My scientific trajectory was really defined by my two amazing mentors," says Liu. "I think that's one of my best experiences: to be able to interact with people from around the world. It's eye-opening—both in terms of how people think about science, and how they live their life."

Now a mentor to his own trainees, Liu is passionate about inspiring the next generation of scientists. "The most satisfying thing is to be able to now transform my knowledge and learning from my mentors to my own mentees."

As part of the Vilcek Foundation's prizes campaign, the foundation has published a biographical profile and video highlighting Liu's life and work on the Vilcek Foundation website.

Access the full article and video at the Vilcek Foundation: Shixin Liu: "Seeing is believing"

The Vilcek Foundation

The Vilcek Foundation raises awareness of immigrant contributions in the United States and fosters appreciation of the arts and sciences. The foundation was established in 2000 by Jan and Marica Vilcek, immigrants from the former Czechoslovakia. The mission of the foundation was inspired by the couple's respective careers in biomedical science and art history. Since 2000, the foundation has awarded over $7 million in prizes to foreign-born individuals and supported organizations with over $6 million in grants.

The Vilcek Foundation is a private operating foundation, a federally tax-exempt nonprofit organization under IRS Section 501(c)(3). To learn more, please visit vilcek.org.

Contact Information:
Elizabeth Boylan
Communications Manager


[email protected]


+12124722500


Original Source: Molecular Biologist Shixin Liu Receives $50,000 Vilcek Prize for Creative Promise in Biomedical Science
originally published at Education - Social Gov