Resume Genius recently debuted its latest innovation to mark its 10th birthday: a new, completely free AI-powered resume summary generator. As a leading online hub for career resources over the past decade, Resume Genius remains dedicated to providing the most up-to-date tools job seekers need to land work and achieve career fulfillment.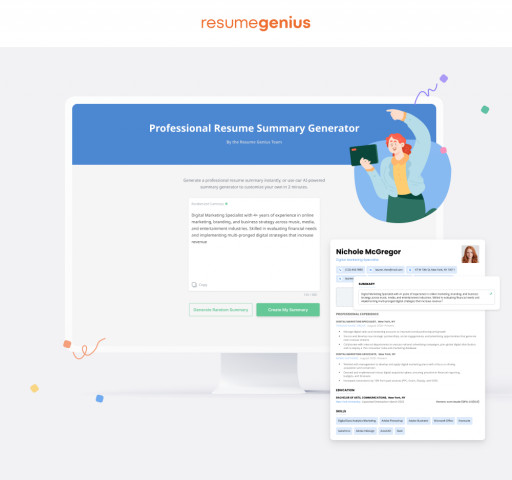 The Genius Resume Summary Generator

Making a professional summary is as easy as a few clicks of the mouse with Resume Genius' new resume summary generator.

NEW YORK - December 8, 2022 - (Newswire.com)


Each year, over 20 million users visit ResumeGenius.com for career insights, downloadable resume & cover letter templates, and writing guides curated by industry experts. Today, the company is thrilled to offer a professional resume summary generator alongside its recently updated resume maker and cover letter builder.

The free summary generator tool can be accessed here: 

https://resumegenius.com/resume-summary-generator
 

Building a professional resume summary with an AI-powered generator

Since 2012, it's been clear to the team at Resume Genius that writing a resume summary was a major pain point for job seekers. Today via the power of AI technology and some in-house creativity, that pain point has been carefully and thoroughly addressed.

The Genius resume summary generator works by gathering information about the user's desired occupation and then generating relevant skills and work responsibilities most related to that occupation. The final product is a customized resume summary that fully encapsulates a candidate's professional qualifications.

In addition to creating tailored summaries, users can generate random summaries with a single click. This feature is most helpful for job seekers who need some fresh ideas or are curious about what a resume summary should look like.

After several rounds of rigorous testing, the Genius summary generator is prepared to build any job seeker an impressive summary they can feature at the top of their resume.
"Generating an eye-catching resume summary has never been easier," said Resume Genius Content Manager Geoffrey Scott, "and we're delighted to offer our users another free tool that simplifies the often exhausting application process."

The benefits of using a resume summary generator

A resume summary generator is an easy-to-use tool for any job seeker, but is especially great for people who need to simply start writing their resume — whether they're recent grads, experienced professionals, or even executive-level applicants.

The Genius summary generator is user-friendly and guides users through a short series of questions before generating a unique resume summary based on their professional background. It's also a time saver — rather than trying to figure out the best job responsibilities, relevant skills, and adjectives to describe themselves, users can generate each detail instantly. They also don't need to worry about formatting, because the generator arranges everything automatically.

Sometimes getting started is the hardest part. But with the right tools, it doesn't have to be. The ability to create a usable resume summary with a summary generator empowers job seekers and ultimately helps them jumpstart the application process.


Contact Information:
Geoff Scott
SEO Content Manager & Certified Professional Resume Writer (CPRW)


[email protected]


(866) 215-9048


Press Release Service by Newswire.com

Original Source: Resume Genius Releases Free Resume Summary Generator Tool to Celebrate 10th Anniversary
originally published at Education - Social Gov