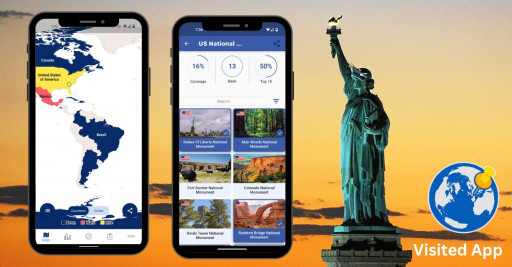 The travel app, Visited, which is popular among US travelers as well as those that travel internationally has published the top 10 most visited US monuments as determined by their 1,500,000 users.

Newswire.com)


The travel map app Visited by Arriving In High Heels Corporation has published a list of the top 10 most visited U.S. national monuments.

Visited, available on iOS or Android, is an app with over 1.5 million internationally travelled users that allows users to mark off places and countries they've been to. Users can also browse top travel destinations, set travel goals, get custom printed travel maps, and more in the Visited app.

The top 10 most visited U.S. national monuments according to Visited include: 
Statue of Liberty National Monument in New York City draws the most visitors each year, attracting people from around the world who come to see Lady Liberty, a symbol of freedom.
Muir Woods National Monument includes majestic, towering redwood trees located north of San Francisco, California. 
Fort Sumter National Monument in Charleston, South Carolina, is the site of the first Civil War battle.
Colorado National Monument features a vast arid landscape of red rock canyons and towering monoliths.
Devils Tower National Monument is a sacred butte located in the Black Hills of Wyoming.
Rainbow Bridge National Monument is one of the world's largest natural bridges and includes multi-colored rocks in Glen Canyon National Recreation Area in Utah.
Montezuma Castle National Monument features ancient housing built by indigenous people in the desert of Camp Verde, Arizona.
Fort McHenry National Monument is a historic fort in Baltimore, Maryland, that played a part in defending the country from attack by the British in the War of 1812. 
Virgin Islands Coral Reef National Monument includes over 12,708 acres of submerged marine habitat located off Saint John, Virgin Islands.
George Washington Birthplace National Monument is where the first president of the U.S. grew up in Westmoreland County, Virginia. 
To see the complete list of the most popular U.S. national monuments and over 50 bucket lists of the most visited travel destinations, download Visited on iOS or Android. 

Create your own countries visited map today. To learn more about the Visited Map App, visit https://visitedapp.com. 

About Arriving In High Heels Corporation

Arriving In High Heels Corporation is a mobile app company with apps including Pay Off Debt, X-Walk, and Visited, their most popular app.


Contact Information:
Anna Kayfitz
CEO


[email protected]




Press Release Service by Newswire.com

Original Source: Statue of Liberty and Muir Woods Are the Most Visited National Monuments in the US as per Travel App, Visited
originally published at Travel - Euro-News