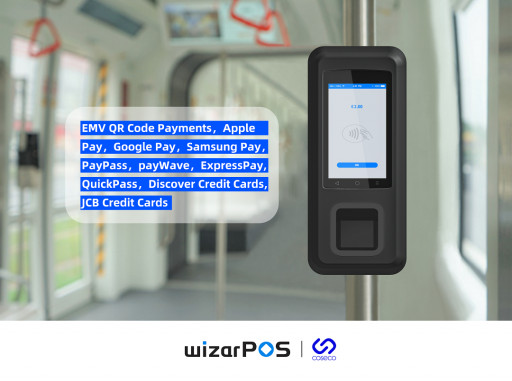 WizarPOS and Coseco Partner to Boost Transit Ticketing System Efficiency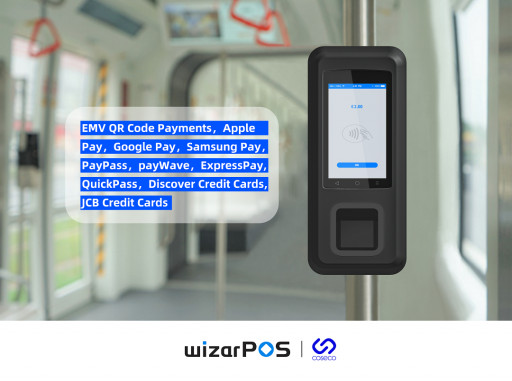 Ticket Validator-WizarPOS-Coseco Partnership
WizarPOS & Coseco Partner to Boost Ticketing System Efficiency
LOS ANGELES, March 2, 2023 (Newswire.com) - WizarPOS, the trailblazer in Android terminal and payment systems, and Coseco, a Netherlands-based mobile solution provider, announce their partnership in transit fare system deployment. Coseco will then implement its transport payment services on WizarPOS ticket validators, combining with WizarPOS' existing EMV payment capabilities. This new automated fare collection (AFC) solution will debut at the Transport and Ticketing Global trade show in London on March 7-8, 2023.
Coseco's transport payment services are designed to help commuters easily pay for transit services in a fast, secure, and convenient manner. Collaborating with WizarPOS, Coseco expands its mobility services globally to accepting prepaid cards, EMV QR code payments, Apple Pay, Google Pay, Samsung Pay, payWave, PayPass, ExpressPay, QuickPass, Discover, and JCB credit cards.
Kaishen Zhu, the co-founder and CEO of WizarPOS, comments, "The WizarPOS-Coseco partnership synergizes deep skills of both parties to tackle complex payment challenges while delivering superior user experiences. We are proud to unlock the full potential of the transit sector with Coseco during the digital transformation. The market expectation of an integrated, easy, and future-proof ticket fare collection solution is met. We look forward to supporting Coseco and its network."
"We are very excited about our partnership with WizarPOS on public transport payment and Automated Fare Collection (AFC)", says Patrick Henzen, founder and CEO of Coseco BV. "Comprising the excellent Android validators and terminals of WizarPOS and the software we have developed, the solutions are very current. Focusing on bank card transactions and QR-scanning for tickets, AFC becomes available for many small and medium-size bus or transport operators that can now implement AFC quickly, effectively, and cost-efficiently," Patrick continued.

WizarPOS' EMV payment technology is widely used in the payment industry, and its devices are renowned for their reliability, security, and ease of use. Integrating this with Coseco's transport payment services, the partnership aims to create a scalable payment solution that will be of benefit to both transport operators and their customers.

About WizarPOS

WizarPOS, the trailblazer in Android POS terminal technology, is committed to empowering secure, future-proof, and scalable payment solutions worldwide. Carrying Android DNA without legacies, the WizarPOS team debuted the world's first wireless POS device under PCI v1.3 in 2005. Designing and enabling Android merchant payment ecosystems from devices, SDK, and TMS to SaaS solutions, WizarPOS has shipped over two million units worldwide within five years, serving 1,500 clients in 70 countries. Visit www.wizarpos.com for more information.

About Coseco

Coseco is committed to improving the lives of operators, and commuters through a series of simple products that solve real problems with social impacts. It operates four offices and branches in Asia and Europe. Visit www.coseco-services.com/ for details.

Media Contact

Elaine Lai Wright

Director of Marketing & PR

Phone: +1 818 856 0834

Follow WizarPOS

LinkedIn: https://www.linkedin.com/company/wizarpos/

Facebook: https://www.facebook.com/WizarPOS

Instagram: https://www.instagram.com/wizarpos/

YouTube: https://www.youtube.com/channel/UCK3KxgNR15HbH7V4s6UU1rQ


Follow Coseco

Facebook: https://www.facebook.com/profile.php?id=100076329853845

LinkedIn: https://www.linkedin.com/company/coseco-services/

Contact Information:
Elaine Lai Wright
Director of Marketing & PR


[email protected]


+1 818 856 0834


Original Source: WizarPOS and Coseco Ink Strategic Partnership
originally published at Travel - Euro-News