Handbag Designer 101 Launches Handbag Designer and Industry Podcast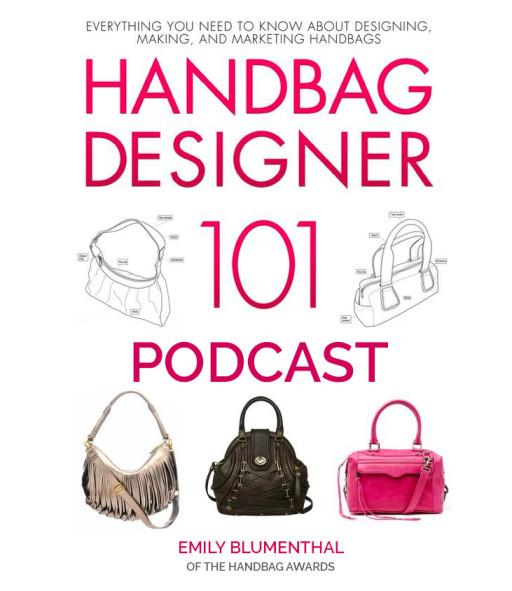 Handbag Designer 101 Podcast
Handbag Designer 101 Podcast with handbag graphic and lineart handbags
NEW YORK, September 12, 2023 (Newswire.com) - The countdown to a groundbreaking revelation in the world of fashion and entrepreneurship has begun. Prepare to be captivated by the launch of the highly anticipated Handbag Designer 101 Podcast, debuting on Tuesday, September 12th. Guided by Emily Blumenthal, affectionately referred to as "The Handbag Fairy Godmother," the Handbag Designer 101 Podcast promises to redefine the narrative of handbag design success.
Every Tuesday, Emily Blumenthal, Founder of The Handbag Awards and author of the handbag designer bible, "Handbag Designer 101," will introduce a stellar lineup of influential guests who have revolutionized the handbag landscape. From seasoned handbag veterans to rising stars, from social media sensations to emerging prodigies, each episode will uncover the untold stories, invaluable insights, and expert counsel that define the handbag universe. To inaugurate the series, the Handbag Designer 101 Podcast proudly presents a trio of handbag luminaries:
Monica Botkier: The revered handbag designer veteran celebrated for her iconic creations.
Tanner Leatherstein: The creative mind behind Instagram-famous handbag designs that have taken the digital world by storm.
Antoine Manning of Homage Year: A fresh, innovative newcomer bringing a contemporary perspective to the industry.
In addition to these prominent figures, the podcast features an eclectic assembly of independent designers from across the globe, industry experts, trend analysts, and retail pioneers, including South African luxury designer, Adrian Furstenburg, Co-Founder of FABSCRAP, Camille Tagle, and social media sensation, "Afropuff Jada" Holmes who can make 'anything' into a handbag, collectively weaving a comprehensive narrative that embodies the multifaceted journey of establishing a triumphant handbag brand.

"The Handbag Designer 101 Podcast is a testament to the untold stories and immeasurable wisdom that fuel the heart of the handbag industry," says Emily Blumenthal. "Whether you're a seasoned designer or a burgeoning creative, this podcast empowers you with the knowledge and inspiration to manifest your handbag dreams." Emily's advocacy has propelled independent handbag designers into illustrious realms such as Bloomingdale's, Macy's, and Saks Fifth Avenue.

The Handbag Designer 101 Podcast is set to make its mark on Tuesday, September 12th, available for streaming on all major podcast platforms. Fashion enthusiasts, creative minds, and industry insiders are invited to embark on this illuminating journey into the essence of handbag design.

For press inquiries, interviews, or further information, please contact: [email protected]

Follow Handbag Designer 101 Podcast on:

Listen to "Handbag Designer 101" on Apple Podcasts, Spotify, or your preferred podcast platform.

Note to Editors: High-resolution images and additional background information about Emily Blumenthal and the Handbag Designer 101 Podcast are available upon request.

###

Contact Information:
Emily Blumenthal
Founder


[email protected]


646-209-1418


Original Source: Embark on a Journey of Creativity and Success With the Handbag Designer 101 Podcast
originally published at Fashion - Purple Foxy Ladies