The Internet can only be made a safer place with increased international cooperation.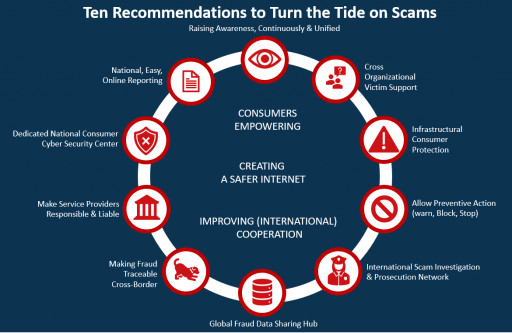 Ten Recommendations to Turn the Tide on Scams
Ten Recommendations to Turn the Tide on Scams
AMSTERDAM, April 20, 2023 (Newswire.com) - Today, the Global Anti Scam Alliance, APWG and the Global Cyber Alliance officially launched the 10 Recommendations at the CyberSec Event in Brussels with a panel discussion with representatives from the European Commission, Europol and the Financial, Internet and Cybersecurity industries.
Online scams have become a global epidemic. Consumers worldwide lost an estimated $55 billion as a result of online scams. The social and emotional trauma cannot even be measured. In many countries, online scams are the most reported type of crime, such as in the U.K., where 41% of all reported crimes are now related to online fraud, and 50% in Singapore.
Further, the loss is likely a gross underestimate, as only 7% of all online scams are even reported. Because a mere 0.05% of all cybercriminals are caught and new technologies like Deep Fakes and ChatGPT are making it increasingly harder for consumers and law enforcement to identify deceit, online scams will continue to grow and thrive.
Governments and security companies are largely focused on fighting the "Big Cybercrime" that target (large) corporates and national infrastructure. However, this ignores the fact that online scams are also harming consumers and diminishing their trust in the global digital economy, which now represents 15.5% of global GDP. This is unacceptable and more needs to be done to protect consumers worldwide.
At the 3rd Global Anti Scam Summit last November, 1,300 (virtual and physical) participants collectively formulated 10 recommendations to enhance consumer protection against global scams. The 10 recommendations are:
Raise Consumer Awareness on a National level, Unified & Continuously
Facilitate One National, Easy, Online Reporting Platform
Set up cross-organizational Support for the Fraud Victims
Develop Infrastructural Tools to Protect Consumers
Make Fraud Traceable Cross-Border
Set up a Dedicated National Consumer Cyber Security Center
Establish a Global Scam Data Sharing Hub
Make Service Providers responsible & Liable for Fraud Enablement
Allow Preventive Action (Warn, Block, Stop)
​Enact an International Scam Investigation & Prosecution Network
"GCA has supported the Global Anti Scam Summit from its very first edition," said Alejandro Fernández-Cernuda, Director of Engagement and moderator of the panel. "The evolution of the initiative, from a gathering of experts to a call to action against online fraud endorsed by key players worldwide, demonstrates the real power of well-coordinated multi-stakeholder collaboration," he added.

Jorij Abraham, General Manager of the GASA and ScamAdviser, comments, "Defining these 10 recommendations has only been a first step. Now, we will focus on getting companies as well as consumers to endorse these recommendations and put pressure on governments that change is not only required but also has to happen fast in order to stop the flood of online scams. At the 4th Global Anti Scam Summit, we will further define each of the Ten Recommendations in order to Turn the Tide on Scams."

Foy Shiver, Deputy-Secretary General of APWG, adds: "From my first call with Jorij Abraham, I was excited at the opportunity to work with an organization as passionate as APWG at making the cyber world a safer place for everyone. Collaborating on sharing threat data, producing networking events and now supporting the 10 recommendations presented today show how together we can improve security for every consumer worldwide."

Contact Information:
Jorij Abraham
General Manager


[email protected]


Related Files
Ten Recommendations to Turn the Tide on Scams v230418.docx



Original Source: Global Anti Scam Alliance Launches 10 Recommendations to Turn the Tide on Scams
The post Global Anti Scam Alliance Launches 10 Recommendations to Turn the Tide on Scams first appeared on NORLY NEWS.
originally published at Law - NORLY NEWS