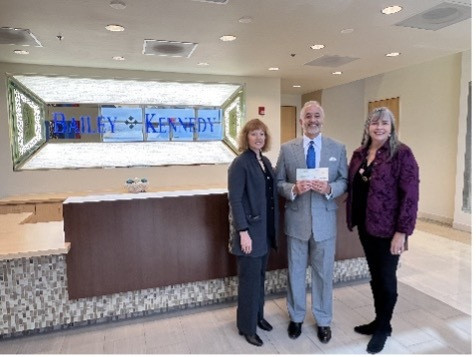 Pictured from left to right: Diane Fearon, SLP Executive Director; John R. Bailey, Managing Attorney\/Bailey Kennedy, LLP; Kara Kelley, SLP Strategic Advisor - Pro Bono Program

LAS VEGAS, April 12, 2023 (Newswire.com) - Southern Nevada Senior Law Program (SLP) is pleased to announce that it received a pledge from Bailey Kennedy, LLP of $25,000 over the course of the next five years, becoming the first Senior Advocates Sustaining Supporter for its Senior Advocates Pro Bono Program. The Senior Advocates Program launched in October 2021 in an effort to expand the capacity of SLP in meeting the high volume of needs of vulnerable seniors and has grown to over 30 caring pro bono attorney volunteers. Senior Advocates provide additional capacity alongside its hardworking staff attorneys, enabling SLP to serve over 2,100 seniors last year. Managing Partner John R. Bailey has made not only a substantial financial commitment on behalf of the firm but also has committed to becoming a Senior Advocate alongside his associate attorneys by donating their time and expertise doing pro bono work for SLP.

"My firm is pleased to make this contribution of funding and time to enable SLP to strengthen the legal safety net they provide to vulnerable seniors in Southern Nevada," said John Bailey, Bailey Kenndey, LLP, Managing Partner. "Helping expand the capacity of SLP with the volunteer attorney program will make a difference to those in need."

SLP is a 501(c)(3) nonprofit that does not charge its low-income and/or fixed-income clients for legal services. SLP is funded by generous grants and community and client donations and serves seniors aged 60 years and older in Southern Nevada. In addition to the small-but-mighty staff of four attorneys, SLP has been creating a robust pro bono program of caring volunteer attorneys (Senior Advocates) to expand its capacity of serving older adults with the greatest social and economic needs. For senior clients facing eviction, access to legal assistance can mean the difference between facing homelessness and knowing they will have a safe place to sleep at night. SLP is there to help older adults with a serious illness diagnosis obtain a Power of Attorney Health Care and Will on an expedited basis.

Diane Fearon, Executive Director at SLP, said, "John Bailey and Bailey Kennedy, LLP are helping Senior Law Program help more seniors with this investment in our Senior Advocates Program. By providing funding to cover the costs of expanding our volunteer attorney roster, SLP will be able to accomplish our goals of reducing wait times for older adults facing overwhelming challenges."

ABOUT SOUTHERN NEVADA SENIOR LAW PROGRAM (SLP)

Originally founded in 1978 under the 1965 Title III Older Americans Act, SLP became a standalone 501(c)(3) nonprofit organization in 2012 and is partially funded by grants from the Nevada Aging and Disability Services Division, the Nevada Law Foundation, and the State Bar of Nevada, along with generous community contributions. For over 40 years, SLP has assisted more than 125,000 seniors 60 years and older living in Southern Nevada. For more information, please visit snslp.org.

Contact Information:
Adilene Plancarte


[email protected]


(702) 557-3763


Original Source: Southern Nevada Senior Law Program Receives $25,000 Pledge From Bailey Kennedy, LLP in Support of Senior Advocates Pro Bono Program
The post Southern Nevada Senior Law Program Receives $25,000 Pledge From Bailey Kennedy, LLP in Support of Senior Advocates Pro Bono Program first appeared on NORLY NEWS.
originally published at Law - NORLY NEWS